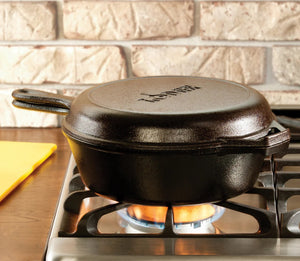 Introducing the Lodge LCC3 Combo Cooker - the ultimate baking companion for your kitchen! Crafted by Lodge Co. in the USA since 1896, this high-quality cast iron combo cooker is the ideal tool for creating artisanal sourdough bread and more, right in your own home.
Discover the joy of baking with this versatile 2-in-1 combo cooker, featuring a deep skillet and a shallow skillet that doubles as a lid. The innovative split design and individual handles make it the perfect vessel for mastering the "Dutch oven" method of bread making. 
Experience the magic of commercial oven-quality results in your own kitchen, as the cast iron construction replicates the intense yet moist heat of professional ovens with steam injection. Prepare to be amazed by the delicious, bakery-worthy loaves you'll create!
Simple and straightforward, the baking process is a breeze:
Preheat your oven and Lodge Combo Cooker to 240°C for at least 40 minutes.
Carefully remove the hot Dutch oven using oven gloves and place it onto a wooden board.
Knock the proved loaf from your banneton onto the shallow skillet, score the loaf, and give it a good misting with cold water.
Invert the deep skillet and place it over the loaf, fitting it onto the shallow skillet.
Return the Lodge Combo Cooker to the oven and bake for 20 minutes without lifting the deep skillet.
Remove the deep skillet and continue baking for an additional 15-20 minutes to achieve your desired crust color.
Once the crust reaches perfection, remove the loaf from the oven, transfer it to a cooling rack, and admire your masterpiece!
Made in the USA by Lodge Co (1896) with NZ warranty. Have a look at the Lodge Foundry Tour video and see the LCC3 in the making. you can trust in the quality and craftsmanship behind every Lodge Combo Cooker
Specifications:
DEEP SKILLET:
Top Inside Width: 25.4cm
Total Width: 26.7cm
Height: 7.8cm
Total Length (to end of handle): 42cm
Base Diameter: 19cm
SHALLOW SKILLET:
Inside Width: 24.4cm

Height: 4.1cm

Total Width: 26.7cm

Total Length (to end of handle): 42cm

Overall Weight: 6.16kg

Overall Capacity: 3L as a casserole/Dutch oven

Heat tolerance: Will easily take heat beyond 260°C, perfect for bread making and more

Made in the U.S.A.