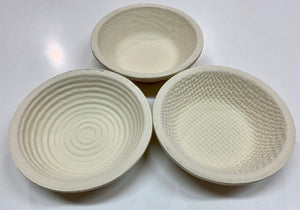 INSTOCK NOW - PREORDERS SHIPPING FIRST! 1 WEEK SHIPMENT ETA 
PLEASE WRITE IN THE ORDER NOTES WHICH SIZE YOU WOULD LIKE 
High quality German Banneton made from natural conifer wood fiber. Ideal for making organic bread as only natural materials are used to make these bowls (fiber, water, pressure).
You use bannetons to prove & shape loaves of bread. The Banneton supports & holds the shape of the loaf as it rises. An imprinted pattern on the inside of the bowl puts a pattern on the outside of the loaf.
Features of natural fibre Bannetons ...
The dough does not stick to the bowl as it can/and does with cane bannetons
The bowls have thick walls with superb insulation properties - bread will prove (rise) faster
Better moisture absorption by the bowl (giving it back to the dough as needed) improves dough proving
Easy to clean, use a small hard brush to brush out surplus flour
For ecological reasons, this material should be favored over the cane.
The bowls will hold a wet dough loaf of 500g, 750g, 1000g, depending on the banneton size (see photos).
You are purchasing ONE Banneton of your choice from the selection available, as shown. Please write in order notes which size you would like. 
Full instructions along with a sachet of NZ organic Diastatic Malt powder (a natural dough enhancing additive for superior crust color, flavor, and nutrition). Also, a sachet of organic brown rice/wholemeal flour to season your banneton with.
Photo 1:  BOWL 23cm diameter
Top 1000g plain
Bottom left 1000g ridge
Bottom right 1000g lattice

Photo 2: BOWL 
Left top 500g ridge 18cm diameter
Right top 750g ridge 18.5cm diameter 
Bottom 750g plain 

Photo 3: OVAL
Top - 1000g plain 26 x 15 x 7cm 
Left - 750g ridge 23 x 14.5 x 8cm 
Right - 750g plain

Photo 4: LOAF
Top 1000g ridge 29.5 x14 7cm
Middle 750g ridge 29 x 13 x 7cm
Bottom 500g ridge 23 x 12 x 7cm