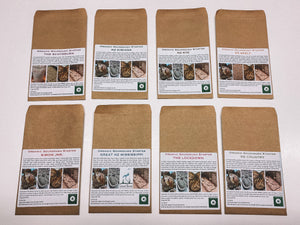 PLEASE choose from drop down menue above which starter you would like :) 
Sourdough cultures (wild yeasts) are used to make artisan sourdough bread. The wild culture leavens the bread as well as imparting a unique flavour & texture. 

The following wild sourdough cultures were all created in Hutt Valley, NZ from certified organic flours & artesian water in my certified bakehouse. Bakery registration HCC170212. NP3.

NZ Country - 50/50 white & wholemeal organic flour. Light wheaty flavour, fast proving

NZ Kiwiana - organic white flour & petone artesian water. Vibrant, fast proving. Light flavour

NZ Rye - rich aromatic culture created from organic rye grown by Scotsburn Farm, Methven

NZ Simon Jnr - a starter created from organic white & rye flour & was part of the RNZ This Way Up Sourdough series with Simon Morton. Its turned out a cracker, creamy aromatic, strong proving. I'm so glad I didn't tip it down the sink after the photo!

The Scotsburn - vibrant vigorous starter, 100% wholemeal. Created from Scotsburn's Farm (Methven) organic Mulika Wheat. Creamy rich wheaty flavour, good acidity

Great NZ Mississippi - Created from organic whole wheat flour from Great River Milling, USA. Wild yeasts from the Mississippi impart a toffee, sweet molasses flavour/aroma

The cultures come in a 10g sachet dried form for revitalising in water/flour to build up into a mother starter culture (4-5 days).

Once you have built up the sourdough, you have it for life. It becomes a living culture you take from & feed to.

Should for any reason your culture fail to startup, I will replace it with a fresh starter no charge.

All methods provided with a free sachet of organic NZ diastatic malt powder (natural dough enhancer for better crust, flavour & nutrition).