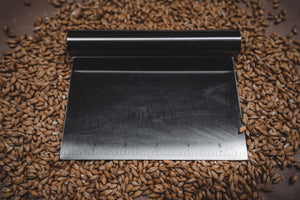 This stainless steel dough scraper is the perfect tool to manipulate dough and to clean the surface on which dough has been worked. You can also use it to help pick up, turn, and portion dough. You can also smoothen the cream on cakes. 
When finished, the dough scraper can be used to scrape up the little bits of dough that have dried onto the kneading surface during the forming process. It can also be used in a more generic kitchen role to transfer sliced or diced foods from cutting board to pan.
Made from Premium Food grade stainless steel, cut with precision, and hand polished.  
 Bakers comment..."its light in the hand, which is great as it makes it very agile and comfortable to use, especially for commercial baking. The stainless blade is strong and thin so cutting the dough is fast and clean cutting"