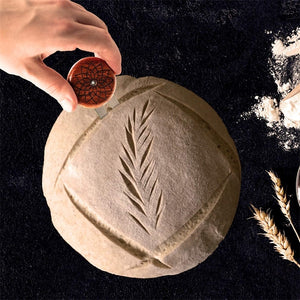 1 ufo bread lame
1 suede storage bag
5 double sided blades

Natural wood styled with our own design.

SUPREME FINE CONTROL BREAD SCORER BLADE: You will feel confident and in control when using this bread lame. Use a bread lame cutter to slash the bread dough which allows steam to escape during the cooking process. The bread scoring tool is used to create an artistic design on the bread creating a rustic sourdough bread loaf.

SAFE TO USE AND STORE: This bread scoring allows you to slash and score with ease giving better-looking results. Keep bread scorer blade in the safety pouch provided. Extra blades are provided we recommend changing the blade of your bread lame cutter after every 25 loaves.

ELEGANT DESIGN: This rosewood eye-catching design bread scoring knife is created by artisan workers Hard wearing, soft and smooth to touch bakers lame, Beautiful suede pouch for keeping bakers lame tool safe and a lovely box makes this bread lame an ideal gift for bakers of bread.

IDEAL GIFT FOR BREAD BAKERS: This sourdough scoring blade is an amazing gift to anyone who uses a bread scorer blade, gray suede storage pouch keeps your bread lame cutter safe and also safe from children who may be in the kitchen. The UFO lame and pouch are presented in our elegant box.

ESSENTIAL KITCHEN GADGET: When making rustic sourdough bread bakers tools are essential, yes you need Benetton baskets, dough scrapper, Danish dough whisk but the most important is the bread scorer. This allows the steam to escape a sharp bread scoring lame will allow you to do this.